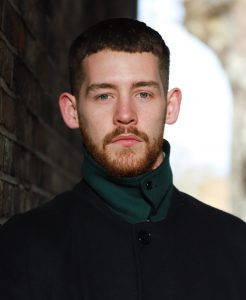 U.K. born, Soul Roberts has had the fortune of training at both the Northern School of Contemporary Dance, Leeds, U.K. & the Salzburg Experimental Academy of Dance, Austria. Upon completion of his studies in 2018 Soul gained a First-Class (Hons) Degree & a 4-years profession dance diploma, specialised in contemporary dance. Throughout his four years of training Soul had drawn from his time working with the likes of Hagit Yakira, Laila Diallo, Theo Clinkard, Mala Kline, Anna Tenta & Alexandra Waierstall, for their artistic identification with improvisation & dance theatre.
Upon graduating Soul has worked professionally with the likes of Jan Lauwers & Paul Blackman for Salzburg Festspiele, Austria. He has toured throughout Germany and Austria with the work's choreographed by Milla Koistinen & Tanz Company Gervasi (Elio Gervasi). Additionally, Soul has performed and collaborated on a number of small-scale projects for traditional & non-traditional performance settings, within the U.K.. These projects have involved work with Kaia Goodenough, Alvin Tran, Cecilia Bengolia & Vice Versa Dance Theatre Company. Further to this, he is continually involved in collaborative performance work with Northern Rascals & 'Improplay Project' (Katy Hewison).
Soul has a vested artistic interest in improvisation & choreography and has been commissioned to create work on the Centre for Advanced Training, at the Northern School of Contemporary Dance. Furthermore, he has and continues to choreograph his own works, which look heavily at the premise of individual human expression; authentic movement practise, & the integrity & necessity of human relation.